Giant Football Darts Hire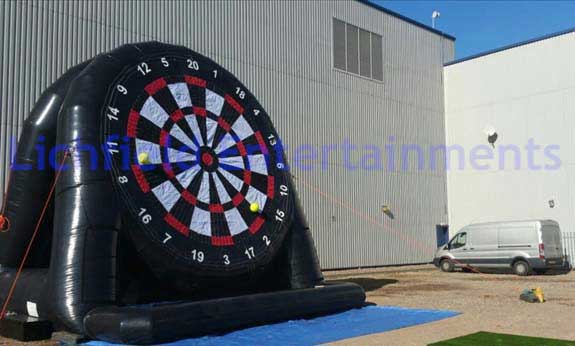 Giant inflatable dartboards aren't as new as some people think and we imported our very first one from the USA way back in 2004 and have had a number of different sizes and versions ever since. In the photo above is our massive Football Dartboard game and it can be seen in use in a video below. This giant football darts measures a huge 28ft wide and is almost as tall - it really is huge and makes for the most imposing attraction you can get.
A traditional game of darts would take too long for most events so the usual method of play is that each player has three shots at the board and the score from each successfully stuck ball is totalled up.
This game comes complete with staff to ensure its safe use.
Have we said this game is massive? Well it really is and requires a minimum operating area of 60x60x30ft.
Giant Tennis Dartboard
If football isn't your game then the same massive dartboard can also be used as a Giant Tennis Dartboard where people strike normal tennis balls at the giant dartboard with tennis rackets. This makes a fantastic and unique attraction for tennis club open days, tennis tournaments, etc.
If you have any queries, questions, or would like to book the giant Football Darts or giant Tennis Darts please click here to enquire and we will do all we can to help.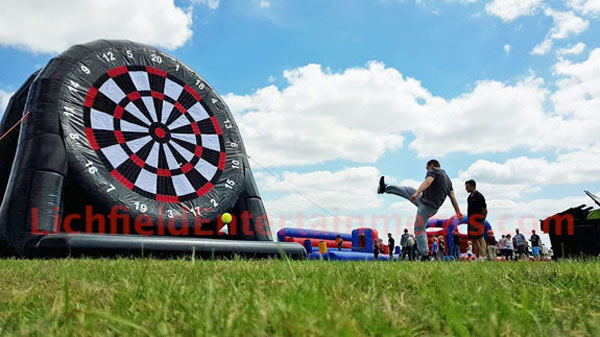 Other great football themed attractions to hire alongside the football darts include Footpool, Human Table Football, and Penalty Shootouts and Speed Cages.