Childrens Rodeo Bull Ride For Hire
Our childrens rodeo bull ride, Billy the Buffalo, is specifically designed for the younger cowboys that are too young for the standard Rodeo Bull. The ride has a reduced fall height to the inflatable and the body of the Buffalo is smaller so the children can sit on it properly. The ride bucks/rolls but does not spin so theres no chance of the children being hit by the ride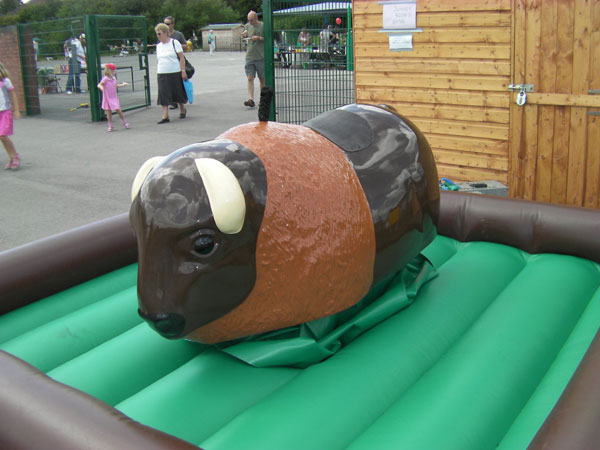 The childrens rodeo ride is suitable for ages 3 to 10 years but is ideally aimed at those age 4-7. If all the kids are aged 8+ then the regular rodeo ride would be a better option.
The ride is supplied with a trained operator and an inflatable raincover for outdoor events. It requires an operating space of 15x15ft and height clearance of 7ft 6in if being used indoors. If using the weather shelter it needs 23x23ft.

If you have any queries, questions or would like to hire the Childrens Rodeo Bull, please click here to enquire and we will do all we can to help.
We offer our hire services to all of the following areas: Alcester, Alderley Edge, Alfreton, Altrincham, Ashbourne, Atherstone, Bakewell, Banbury, Bedworth, Bicester, Birmingham, Bridgnorth, Bristol, Bromsgrove, Buckinghamshire, Burton upon Trent, Buxton, Cambridge, Cambs, Cheadle, Cheltenham, Cheshire, Chester, Chesterfield, Chipping Norton, Cirencester, Congleton, Cotswolds, Coventry, Crewe, Derby, Derbyshire, East Midlands, Evesham, Fulham, Gloucester, Gloucestershire, Grantham, Greater London, Henley in Arden, Hereford, Herefordshire, Hertfordshire, Hinckley, Holmes Chapel, Kegworth, Kenilworth, Kettering, Kidderminster, Knutsford, Leamington Spa, Leeds, Leek, Leicester, Leicestershire, Lichfield, Lincolnshire, London, Loughborough, Ludlow, Macclesfield, Malvern, Manchester, Mansfield, Matlock, Melton Mowbray, Middlewich, Milton Keynes, Nantwich, Newark, Newcastle under Lyme, Northampton, Northants, Nottingham, Nottinghamshire, Notts, Nuneaton, Oswestry, Oxford, Oxfordshire, Redditch, Rugby, Sandbach, Sheffield, Shrewsbury, Shropshire, Solihull, South Yorkshire, Stafford, Staffordshire, Staffs, Stoke on Trent, Stone, Stratford Upon Avon, Stroud, Sutton Coldfield, Tarporley, Telford, Uttoxeter, Warwick, Warwickshire, Welshpool, West Midlands, Whitchurch, Wolverhampton, Worcester, Worcestershire, Worksop.