RACING CAR SIMULATORS FOR HIRE
We offer a range of Race Simulators for hire for events in the Midlands, central UK, and further afield upon request. Choose your race sim from smart race seat frames with force feedback wheels, virtual reality race simulators, full motion simulators, an inflatable F1 car simulator, or combinations of these different types.
A great attraction for corporate events and promotions with various branding opportunities for promotional use. On the VR/Full Motion simulator there is space for a 50x70cm branded panel between the support posts for the screen, space on the back of the seat for low tack graphics, and space around the base of the rear half of the sim for more branded panels.
Virtual Reality Race Simulator
New to our hire range is our VR Race Simulator where participants can immerse themselves in the full race car experience while spectators can see whats happening on the large curved screen. Compete against the clock for the fastest lap and try and get your name to the top of the magnetic 'Top Gear' style lap time board. The Virtual Reality Race Simulator can be combined with the Full Motion Seat - see below.
The VR Race Simulator is supplied staffed to ensure a smooth running event and requires an operating area of 8x4ft.
A minimum user age of 14 applies to this game.
Full Motion Race Simulator
The Full Motion Race Simulator is another new addition for 2017. Harness yourself into the motion race seat and physically experience the bumps, the turns, the braking and acceleration as you race around the track. As you accelerate the seat will tilt backwards to simulate the surge, brake and it leans forward, in corners it leans to the sides simulating the roll of the car, and you'll certainly feel the bumps if you go over the kerbs or end up in the gravel! Supplied with a large curved screen this can be combined with virtual reality for a racing experience about as close to real as you can get.
Our motion simulator is again supplied staffed and requires an area of 8x4ft.
A minimum user age of 14 applies to the motion simulator.
Our Full Motion, Virtual Reality Race Simulator in Action...
The movement settings of the full motion race simulator are adjustable so the severity of the movement can varied as required. In the video above the movement is on the more lively side!
Inflatable F1 race Simulator
Below is our fantastic inflatable race car simulator complete with genuine race seat, force feedback steering, and the option of auto or manual shift gears. Because it's only inflated once in situ venues with restricted access such as single doors are no problem. The simulator is supplied complete with a custom made Top gear style magnetic leader board to keep track of laps times and normally comes with a member of staff to run it on your behalf.
This simulator measures 18ft in length and 8ft 6in wide.
This racing simulator can be used with virtual reality but not with the full motion base.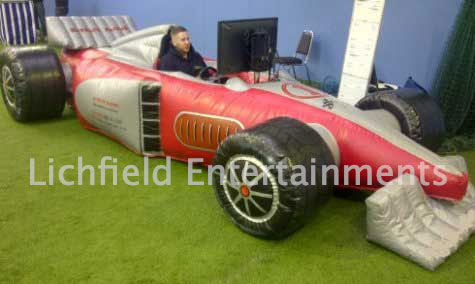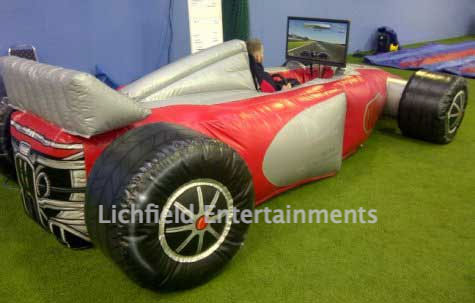 If you have any queries, questions or would like to hire one of our Race Simulators for your event, please click to enquire and we will do all we can to help.
Being based right in the heart of the UK we're perfectly situated to cover a huge area with our Race Simulator hire within just an hour or twos drive and hire out to all of the following areas for fun days, team building, fetes, and fairs:

Alcester, Alderley Edge, Alfreton, Altrincham, Ashbourne, Banbury, Bicester, Birmingham, Bridgnorth, Bromsgrove, Burton upon Trent, Cambridge, Castle Donnington, Cheltenham, Cheshire, Chesterfield, Chipping Norton, Cirencester, Cotswolds, Coventry, Crewe, Derby, Derbyshire, Dickens Heath, Dorridge, Droitwich Spa, East Midlands, East Midlands Conference Centre, Earlswood, Edgbaston, Evesham, Fulham, Gloucester, Gloucestershire, Grantham, Greater London Hereford, Herefordshire, Hertfordshire, Hinckley, Kegworth, Kenilworth, Kettering, Kidderminster, Knutsford, Leamington Spa, Leeds, Leek, Leicester, Leicestershire, Lichfield, Lincolnshire, London, Loughborough, Ludlow, Lutterworth, Manchester, Mansfield, Matlock, Melton Mowbray, Meriden, Milton Keynes, Nantwich, Needwood, Newark, Newcastle under lyme, Northampton, Northants, Nottingham, Nottinghamshire, Notts, Oswestry, Oxford, Oxfordshire, Redditch, Ripley, Ripon, Rugby, Sandbach, Sheffield, Shrewsbury, Shropshire, Shrops, Silverstone, Solihull, South Yorkshire, St Georges Park, Stafford, Staffordshire, Staffs, Stoke on Trent, Stratford Upon Avon, Stroud, Sutton Coldfield, Telford, Uttoxeter, Warwick, Warwickshire, Welshpool, West Midlands, Whitchurch, Worcester, Worcestershire, Worksop.
Some areas will be subject to a delivery charge or minimum order requirement.