Rodeo Reindeer Ride
Our Rodeo Reindeer Ride - The ultimate Christmas themed entertainment for your Christmas party and available for hire to events across the Midlands area!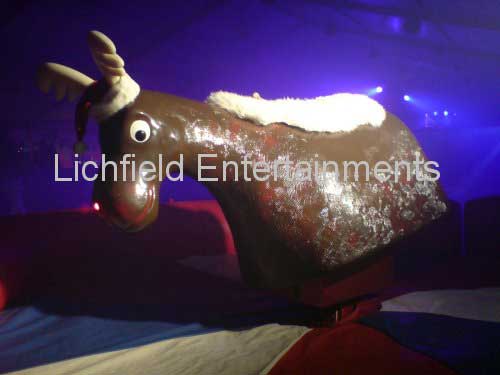 Why have a Rodeo Bull at your Christmas Party when you can have a festive Rodeo Reindeer complete with flashing red nose!
Our Rodeo Reindeer is supplied with one of our trained operators who will safely operate the ride on your behalf. All rides are automatically timed and we provide a free trophy for the best ride.
The Rodeo Reindeer needs an area of 17x17ft with a height clearance of 9ft.

If you have any queries, questions, or would like a quote to hire the Rodeo Reindeer for your event, please click here to enquire and we will do all we can to help.