Company Sports Day Games
Company Sports Days are an increasingly popular team building event that give the staff an opportunity to escape the office for few hours and have some outdoor fun.
You could borrow all the spoons from your canteen for egg and spoon races, or raid the cleaning cupboard for some sacks for sack racing but you could aim bigger and better and hire some of our great competitive company sports day games. The following are just a small selection of those we have available for hire...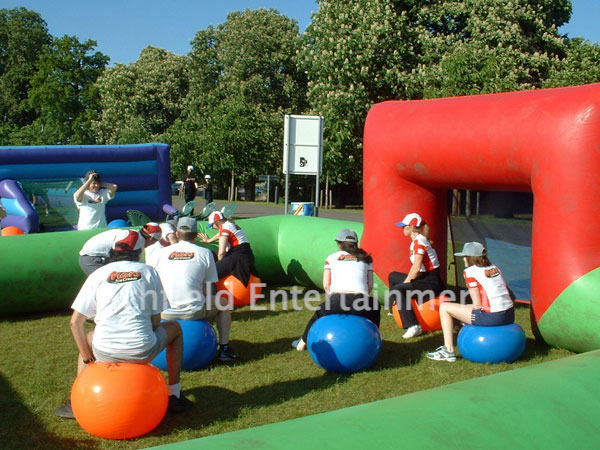 Above is our Space Hopper Football. A great team game with 4-6 players per team competing against each other. Tournaments can be arranged on a knockout or league basis.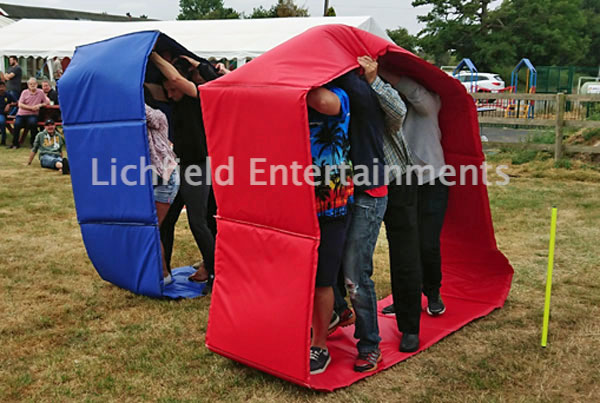 Human Caterpillar Racing - a great racing game where teammates have to work together to feed the caterpillar track around themselves as quickly as they can.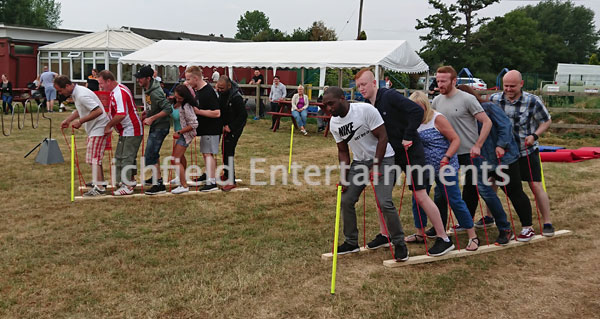 Centipede Ski Racing is another racing game where great communication between the team is required to ensure everyone moves the right leg at the right time.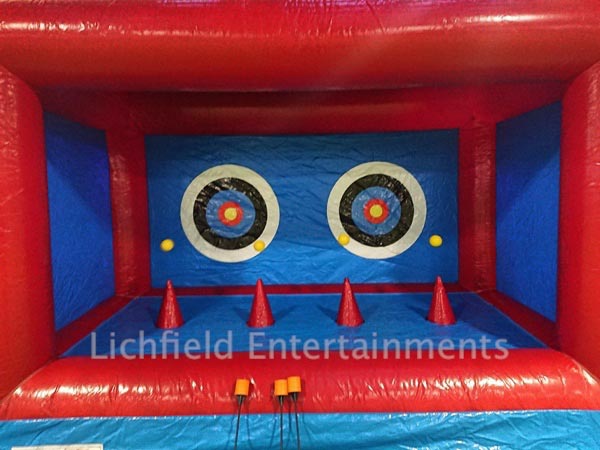 Hoverball Archery can be used both indoors or outdoors. Try and shoot the balls hovering in the vertical airstreams..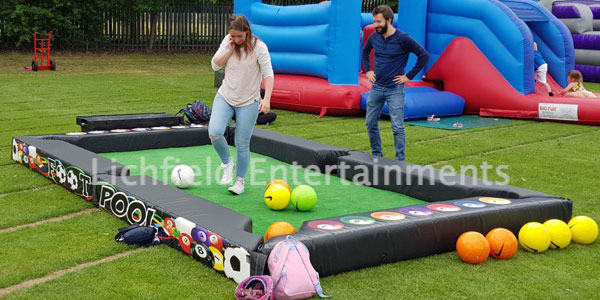 Our Footpool game is a combination of football and pool and can be played indoors or outside.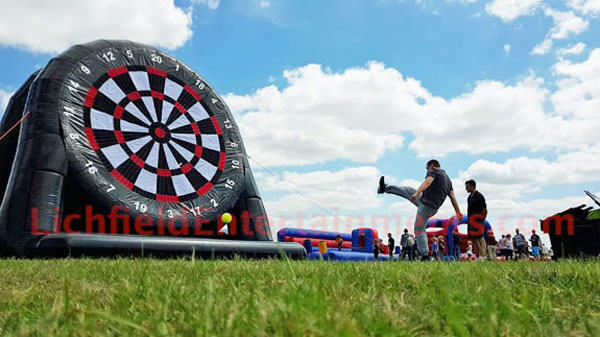 Above is our Giant Kick n Stick Football Darts. A huge attention grabbing game that crosses Football with Darts. We have two sizes of this game - a large 15ft tall version and an absolutely massive 27ft tall version.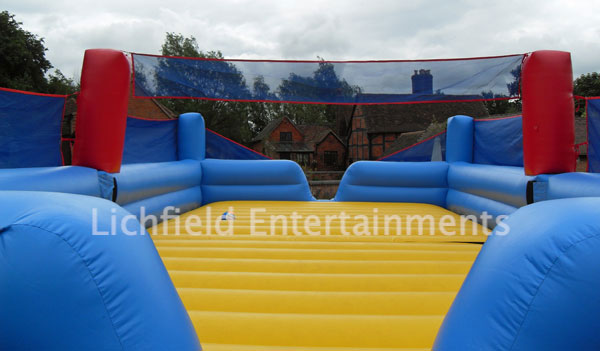 Our Bouncy Beach Volleyball is another great team game suitable for 2-5 players per team. The bouncy court ensures a soft landing for those diving returns.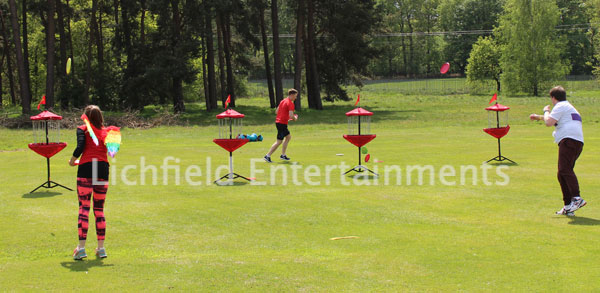 Disc Golf can be set-up to suit the space available, from a short throw game to a series of full on 200 yard holes if space permits. Disc Golf follows the same idea as traditional golf only the aim is to take a series of throws to hit an aerial target basket with your frisbee rather than putt your ball into a hole. The person, or team, using the least number of shots wins.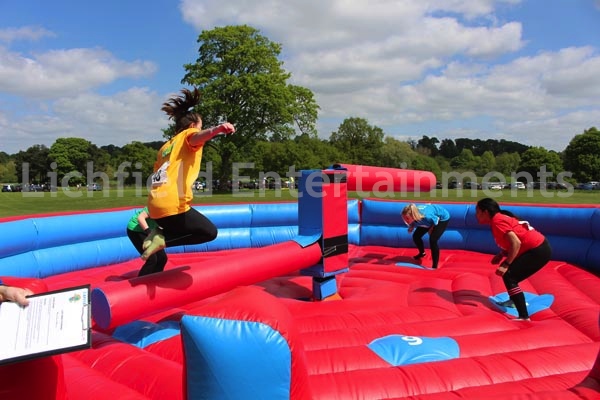 We have Wipeout style games like our rotating sweeper arm. Suitable for up to six players at a time they have to stand on their marker and jump over the rotating inflatable arm each time it passes. If it strikes you, or you fail to land on your marker then you're out. The last man standing is the winner.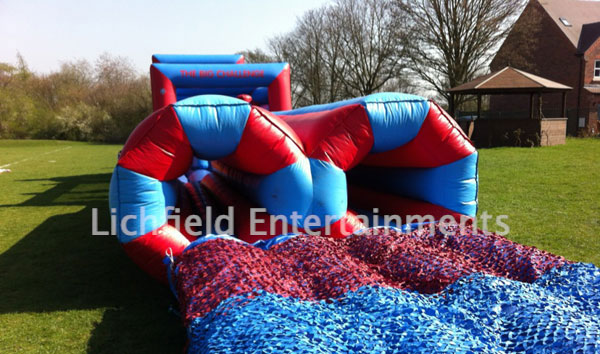 We have adult Assault Courses available in either 70ft or 95ft lengths. The participants race through the inflatable assault course in pairs through all the various obstacles with the first to the end is the winner.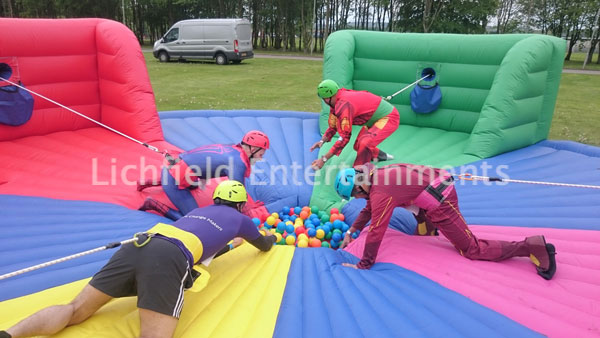 Dash n Grab is a four player bungee game like a human version of the table top Hungry Hippos game.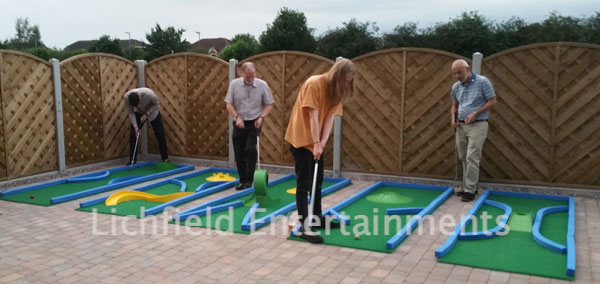 Add anything from a couple to nine Crazy Golf holes to your company sports day and hold your own company open (crazy) golf championship.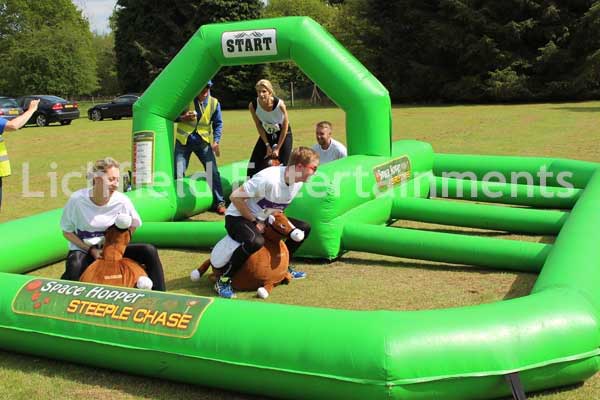 Our Hopper Racing Tracks are great multi-player games suitable for 2-4 players at a time.
Our game suggestions for your company sports day
Airflow Race
Airstream Table Football
Archery
Assault Courses
Baseball Strike
Basketball Challenge
Beach Volley Ball Court
Blow Football (Giant)
Boat Racing (interactive electronic)
Bungee Run
Bungee Eliminator
Buzz Wire - Giant
Centipede Skis
Crazy Golf
Cricket Strike
Crossbow Shoot
Dash n Grab - Hungry Humans
Disc Golf
Football Darts (Giant)
Football Penalty Shootout
Footpool
Giant Darts
Golf Chipping
Hamster Track Racing
Hopper Steeplechase Racing
Hover Target Archery
Human Caterpillar Racing
Human Demolition
Human Table Football
Inflata-Frame Games
Rodeo Bull
Rodeo Sheep
Space Hopper Football
Sumo Wrestling Suits
Surf Simulator
Table Football - Airstream
Table Tennis Table
Team Racing Games - Human Centipede, Caterpillar Tracks, Team Tubes


To discuss the games we can supply for your company sports day please get in touch via enquiries@lichfieldentertainments.com or call on 01283 792974.