The Vault - an Eye-Hand Coordination and Reaction Speed Game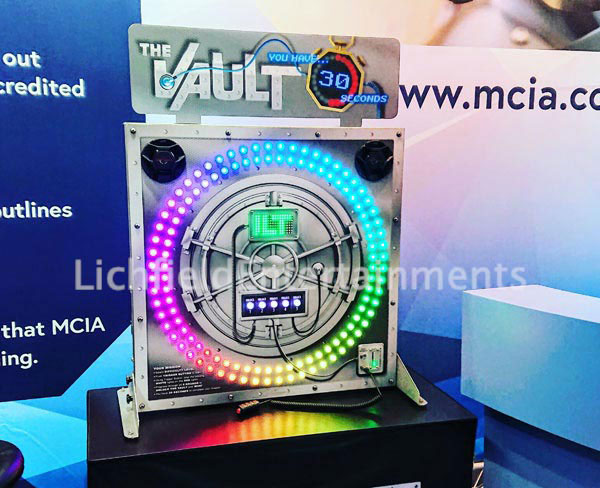 The Vault is the most recent addition to our range of reaction speed games and this versatile game is perfect for so many types of event it's bound to prove very popular: as an Escape Room game, as an attraction to draw people on to your exhibition stand, a game for conference break-out time, or side entertainment for an evening event.
The Vault will test your reaction and eye to hand coordination skills with the challenge being to unlock The Vault within a 30 second time limit.
Using a handheld trigger switch you have to stop the orbiting white light in a red zone. Each time you successfully stop the light in a red segment you pass through to the next round, successfully pass through five rounds within the 30 seconds and you 'open the vault' and win! It sounds simple...but in each round the orbiting white light gets quicker and quicker, and the red zones get fewer and smaller!
This game is frustratingly addictive and always has a queue of willing participants wanting to test their skills. The game can be set to run in four different difficulty levels so is suitable for all player ages. When being used just as fun game you can set it on the easier levels. If it's being used with a prize for winners then you can set it to run in the more challenging difficulty levels.
In the video below you can see the Vault game in use in various difficulty level settings including the hardest level in the last 30 seconds of the footage
This game can be hired for anything from a few hours to a few days - or more. It can be supplied with a friendly staff member or unstaffed for you to run yourself although we'll still deliver and install the game for you.
The game requires an overall operating area of 4x4ft and access to a mains electric socket is required.
The Vault is the third co-ordination and reaction speed game that we've added to our range to go alongside the brilliant Batak Lite, and the two player head-to-head Strike a Light'.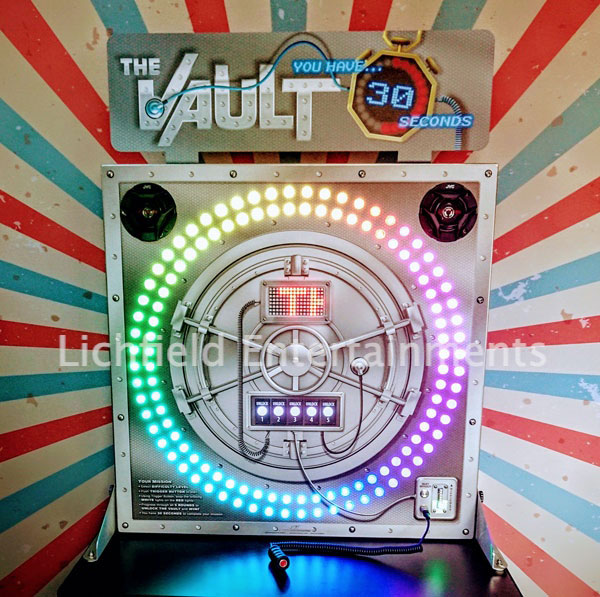 The Vault, as well as our other two reaction games, are perfect for all types of event whether as an attraction to draw and engage visitors on an exhibition stand, side entertainment for corporate events, or fun at parties and receptions. We offer these games for hire across all of the Midlands and much of the United Kingdom. If you are holding your event at either the Birmingham NEC or Telford International Centre both of these venues are just 30-40 minutes drive from our warehouse meaning delivery costs are minimal compared to many of our competitors.

What our customers say...
'The Vault game went down went down fantastically on our exhibition stand' - Hannah
'I just wanted to let you know that the guys who were with us on Friday were absolutely brilliant, totally professional but really friendly and helpful – they really made the experience thoroughly enjoyable. They are a credit to your organisation!' - Jackie
'May I just say that your lights out game today was fantastic. We will definitely be in touch about our fresher's fair later this year.' - Colin
If you have any queries, questions, or would like to hire The Vault for your event please contact us and we will do all we can to help.