Conference Entertainment Ideas - Games and Entertainments For Hire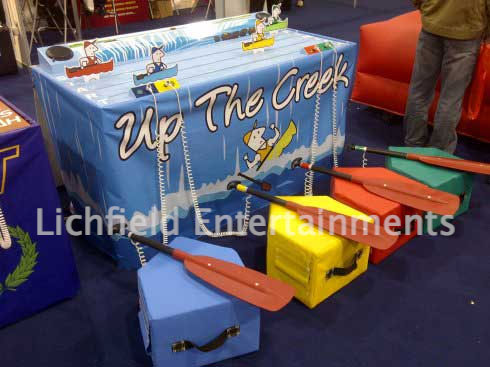 Welcome to our Conference Entertainment Ideas page, where your event's success story begins! At Lichfield Entertainments, we understand the importance of leaving a lasting impression on your conference attendees. That's why we offer a diverse range of entertainment options that transform ordinary conferences into extraordinary experiences.
Whether you are looking for some ice-breaking pre-dinner games, daytime breakout time, post presentation fun, or a centre piece for a competition, choosing entertainment for conferences and conference dinners can be tricky as you'll invariably have guests of all ages and while some may be extrovert and outgoing some will be less so. Your event maybe formal so guests may be dressed for more sedate games, or if people are dressed more casually they may be up for more active entertainments. Whatever the event type with a range of over 100 items we have an activity that will be suitable.
For prize competitions items like the Grab a Grand and Reaction Speed games are always popular. To get people mixing before a dinner then maybe look at the Roll-a-Ball Derby, Retro Arcade or Pixel Play electronic games and table games such as Table Football, Air Hockey, and Table Tennis. Add in some Giant Games, the two or four player Basketball Challenge, Mini Golf, or Footpool. For more energetic games there are rodeo rides - choose from rodeo bull, sheep, football, or rugby ball, board simulators, and the brilliant Up the Creek four player electronic boat racing game.
Based in the heart of the UK we hire out our games and entertainments to conferences and corporate events throughout both the West Midlands and East Midlands and are happy to travel further afield upon request so please just ask.
SPECIAL OFFER PACKAGE
The above fixed package of electronic games consisting of Pixel Play, Top Doc, Mega Buzzwire, and Strike a Light, is a package that we offer at £750+vat for a 4 hour hire. This period can be extended at additional cost and a delivery charge may apply outside the Midlands.
You can add either the Dance Mats Machine or Double Hoops Basketball to the above package for just £250+vat extra.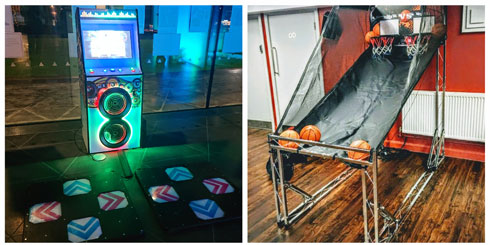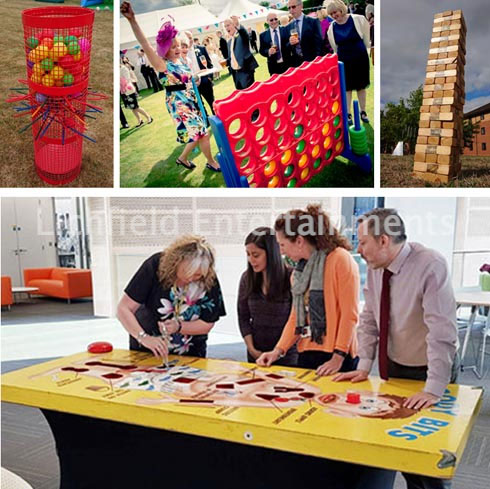 Giant Games
We have a great range of Giant Games for your conference entertainment including Giant Jenga that starts at 4ft tall, Giant Four-in-a-Row, Giant Body Bits - over 6ft long, Giant Ball-Fall, Giant Inflatable Darts, and Giant Buzzwires ranging from table top versions to a floor based 10ft long Beat the Beep.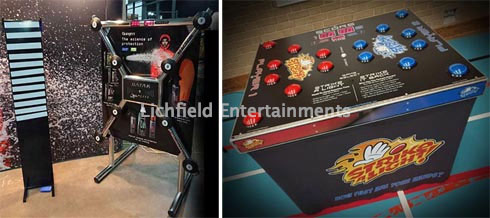 Interactive Electronic Entertainments
Choose from three different Reaction Speed Games including the brilliant Batak, The Vault, or Whack-a-Mole type Strike a Light that can be played by either one or two players. We also have Roll-a-Ball Derby, Ball-Nado and Grab a Grand, Race Simulators, our unique Up the Creek electronic boat racing, Giant Buzzwires, Double or Quadruple Hoops Basketball Challenge, Dance Machine with double dance mats, and Selfie Pods.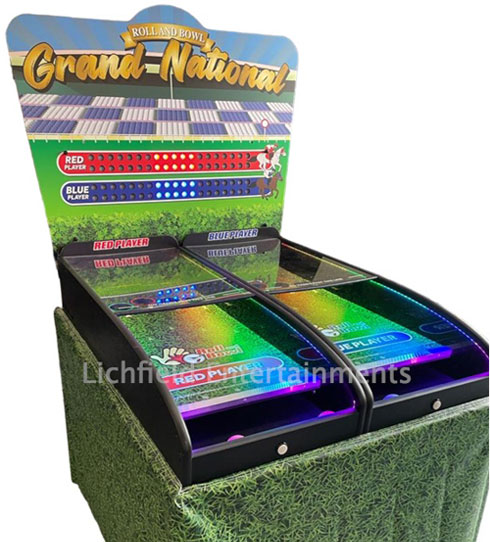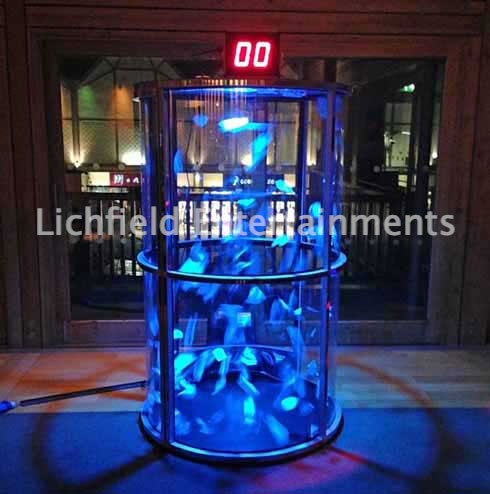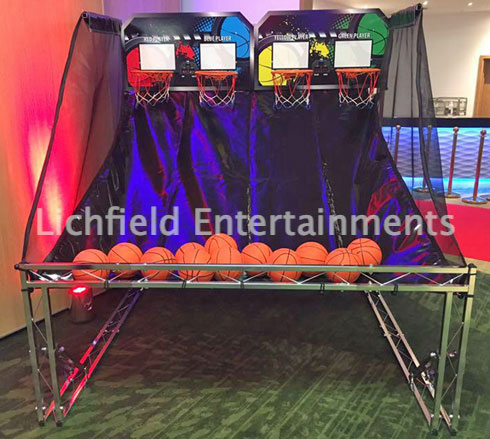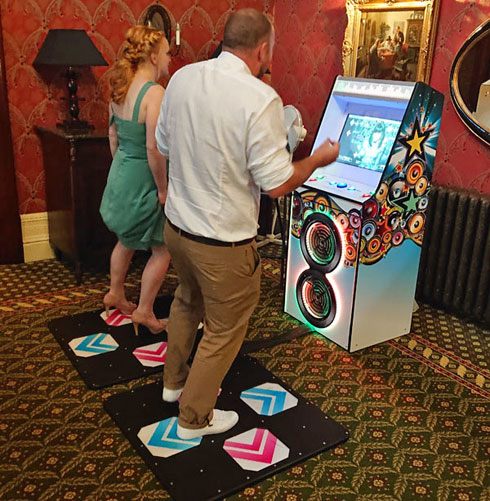 Inflatable Games
We have a range of inflatable games to provide amusement at your conference including Human Whack-a-Mole, Air Juggler, Skittle Alley, Blow-Football Table, and more.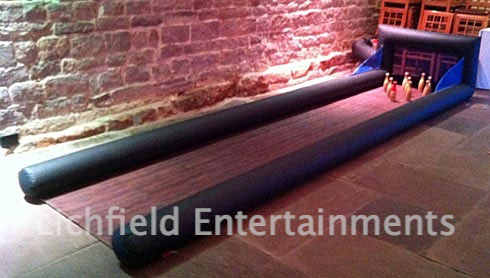 For a hire prices please email enquiries@lichfieldentertainments.com with details of the date and venue and we'll send you a full pricelist to take a look at.

To discuss the entertainments we can supply for your conference or corporate evening please get in touch via enquiries@lichfieldentertainments.com or call on 01283 792974.