Batak Lite Reaction Speed Game Hire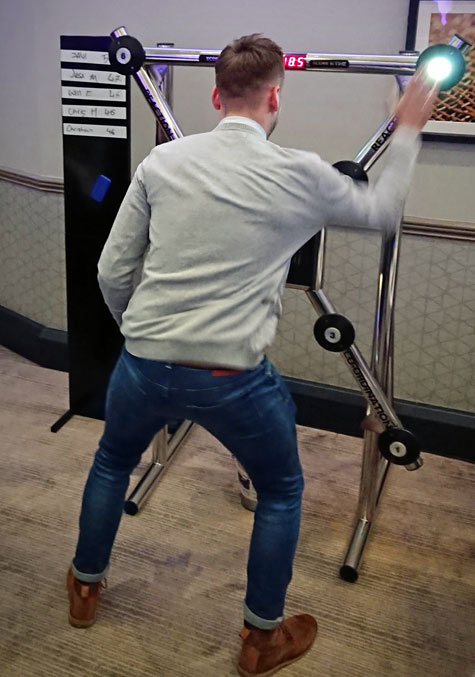 Batak Lite is a single player reaction speed game where the participant has to tap as many of the eight light up targets as they can within a set time period. The game is normally played to a thirty second game time but you can also set it to a minute or even a marathon two minute game.
Batak Lite is the perfect game for promotional events such as exhibition stands, corporate events, sports events, and other special occasions where you're looking for a high energy game. The game is supplied with a magnetic leaderboard to keep track of the best scores and this really adds to the competitive element attracting lots of attention and lots of eager participants keen to test their reaction speeds.
If you're using the game for a promotional event a custom branded backboard can be added to the game and a branded header can be added to the magnetic leaderboard.
Batak Lite, as well as our other two reaction games, are perfect for all types of event whether as an attraction to draw and engage visitors on an exhibition stand, side entertainment for corporate events, or fun at parties and receptions. We offer these games for hire across all of the Midlands and much of the United Kingdom.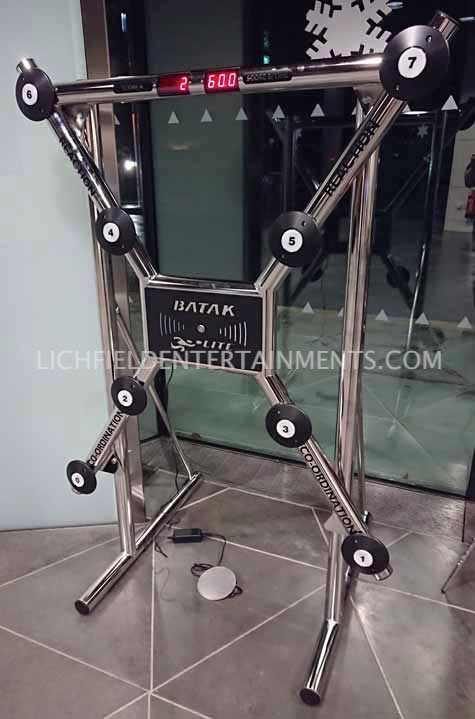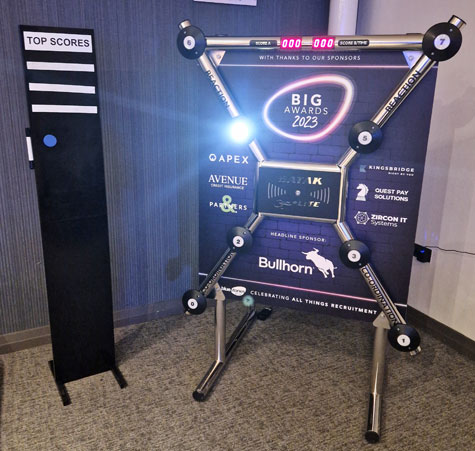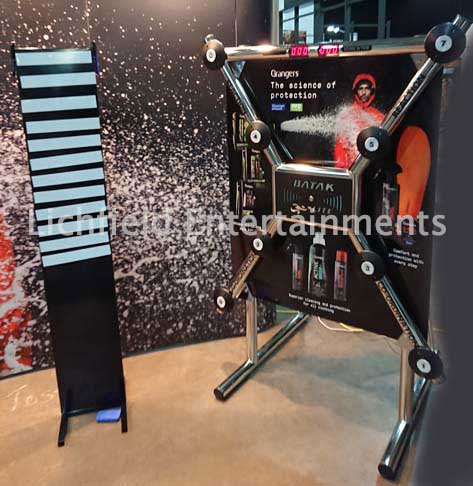 Batak Exhibition Stand Activity - Case Study
Our client was attending an Outdoors/Leisure trade Show aimed at the forthcoming Spring and Summer season. While most of the other exhibitors were displaying this seasons brand new colours and designs of outdoor clothing and footwear on their stands our client had the problem that with their product being waterproofing and cleaning solutions they were the same irrespective of the season. To attract more visitors on to their stand they hired the Batak Lite game complete with branded rear panel, together with a magnetic scoreboard, and ran a competition over the two day show offering prizes for the best three scores. The Batak attraction proved such a success they had over 150 participants per day taking part in the competition on their stand making it one of the busiest at the show.
Our Batak Lite is one of three different reaction speed games that we have for hire that also includes the two player Strike a Light and the stop-the-light The Vault game.
Contact us today for a quote to hire a Batak Lite game for your event.

What our customers say...
'I just wanted to let you know that the guys who were with us on Friday were absolutely brilliant, totally professional but really friendly and helpful – they really made the experience thoroughly enjoyable. They are a credit to your organisation!' - Jackie
'May I just say that your lights out game today was fantastic. We will definitely be in touch about our fresher's fair later this year.' - Colin
If you have any queries, questions, or would like to hire one of our Reaction Speed Games for your event please contact us and we will do all we can to help.