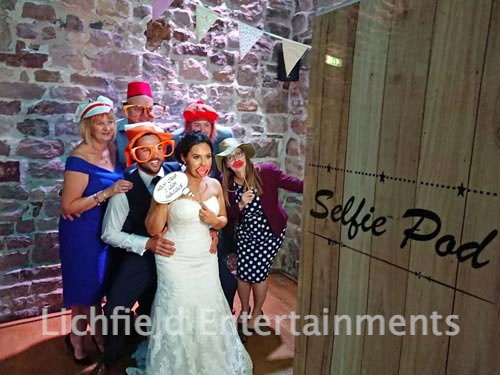 Selfie Pod Tower and Retro Pod Photo Booth Hire
Our freestanding Selfie Pod Tower, and the new Retro Pod, are compact photo booth systems that are equally at home at a party or wedding reception as they are for promotional use in a store or on an exhibition stand. Being open air rather than enclosed its much easier to run in a Covid-safe way.
Both the Selfie Pod and Retro Pod use professional sub-dye printers for the very best quality prints. We include a big box of fun dress up props and speech capsules free of charge. We also have a selection of backdrops to choose from including light wood, retro starburst, foliage, sparkly silver, or glittery gold backdrop designs.
Selfie Pod Tower
The Selfie Pod Tower takes four photos with approx 10 seconds between each photo so the quick props changes add even more fun. The selfie tower uses a high quality DSLR camera for the very best results. The print is then issued within 20 seconds for your guests to take away as a memento.
Retro Pod
The Retro Pod can be set to take one, three, or four photos depending on the print layout you'd prefer for your event. We can change the border/background of the print to your taste or theme, and if your venue has a good wifi or EE signal then as well as taking away their print your guests can send a copy of the print directly from the pod to their phone or email address there and then to share on social media.
With the Retro Pod users can also add graphic 'stickers' of hats, beards, bow ties, speech bubbles, etc to their photos via the touch screen and even add their own doodles - we can disable this feature if you'd prefer it wasn't used.
Another feature of the Retro Pod is its Boomerang Gif creator where it will take a series of photos and turn them into a Boomerang Gif that the user can send to themselves. While this feature cannot be used while the pod is set to take and print photos you can split your hire period so it runs part of the session as a Boomerang Creator and the rest of the session as a photo pod printing photos - just let us know how you would like your event run.
With either pod a secure, password protected, online gallery is created for you shortly after the event that you and your guests can download and share from.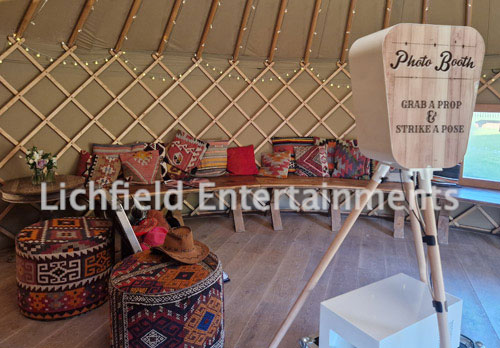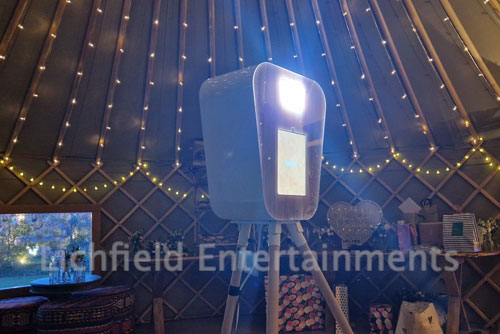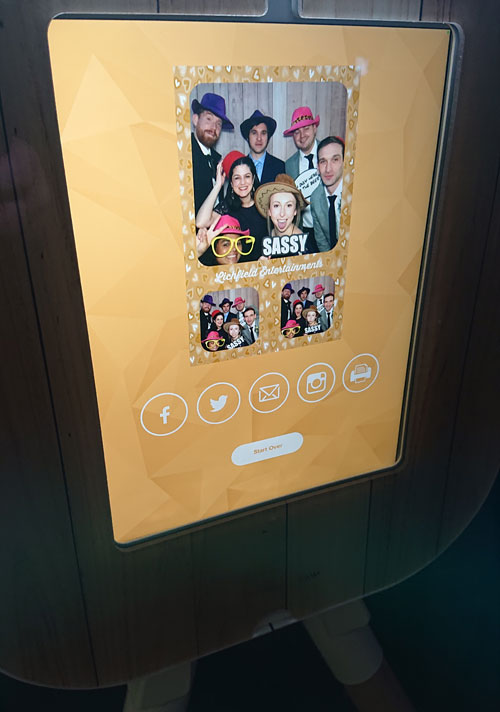 The Retro Pod is pictured above and the Selfie Pod is pictured below.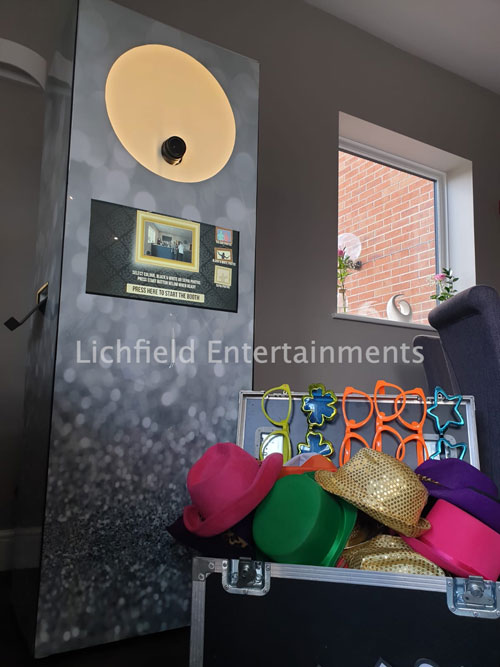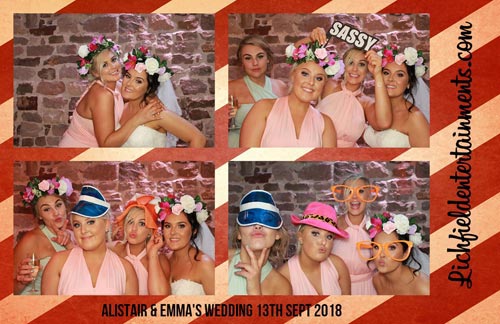 Selfie Pod Hire Details
The Selfie Pod can be operated in a space as small as just 8x4ft and the Retro Pod 7x4ft but the more space you have the more people you can get in the photo.
A friendly member of staff is normally provided to help users get the best from the selfie pod and ensure its smooth running.
A big box of fun props is included free of charge.
Instant prints.
A strap line of text can be included on all photos as can your company logo if it's a corporate event.
The Selfie Pod can be supplied in a choice of retro light wood pod body panels (as pictured) or sparkly silver, red chesterfield, black chesterfield, or even Union Jack design panels.
Option to add Guestbook containing duplicate prints.
Option to add either light wood, retro starburst, floral, foliage, sparkly silver, or glittery gold backdrop.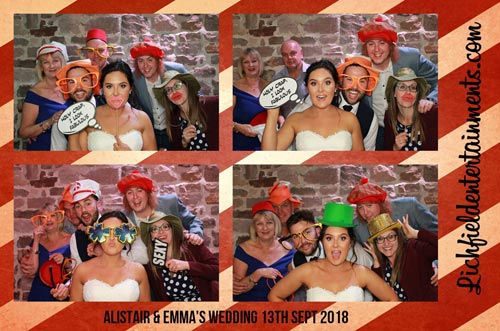 If you have any queries, questions, or would like to hire the Selfie Pod for your event please contact us and we will do all we can to help.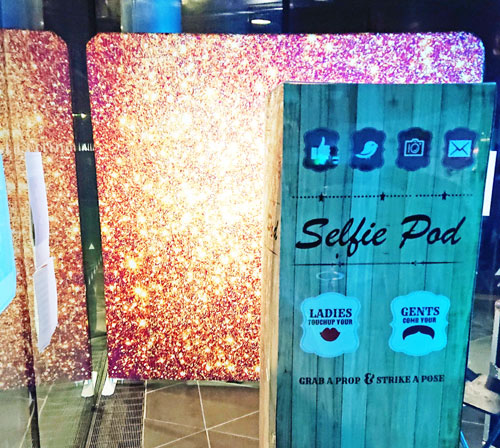 Some of our favourite venues for Selfie Pod Photo Booth hire in Staffordshire, Derbyshire, and the West Midlands
The Ashes, Endon, Staffordshire
Pendrell Hall, Codsall Wood, Staffordshire
The Mill Barns, Alveley
Coton House Farm, Whittington, Lichfield
Thorpe Garden, Thorpe Constantine, Tamworth
Swinfen Hall, Lichfield, Staffordshire
The Pavillion, Branston Golf and Country Club, Staffordshire
Aston Marina, Stone, Staffordshire
The Waterfront, Barton Marina, Staffordshire
Shottle Hall, Derbyshire
Donington Park Farmhouse Hotel, Derbyshire
Morley Hayes Hotel, Derbyshire
Kedleston Hall, Derbyshire
National Motorcycle Museum, West Midlands
Moxhull Hall, Sutton Coldfield
The Belfry, Sutton Coldfield
Hilton Metropole Hotel, Birmingham NEC
Moorhall Hotel, Sutton Coldfield
Forest of Arden Marriott Hotel and Country Club
Hinckley Island Hotel, Leicestershire
Having supplied events at all of the above previously we are familiar with these venues and know that both access and space are suitable for our Selfie Pod.