Human Whack a Mole Game Hire
Inflatable Human Whack a Mole - social media went crazy when this game launched with millions of video views in just a couple of weeks. Lichfield Entertainments have this great new entertainment available to hire now so get booking!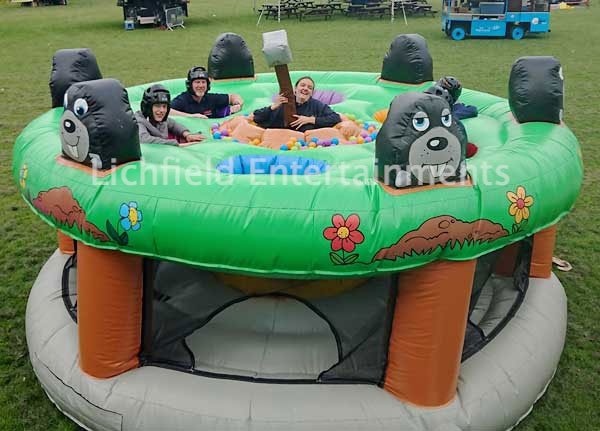 Human Whack a Mole is a game for up to six players plus the central player - the 'gardener' with the hammer. Games are fast and furious with the human moles trying to grab as many balls from around the central position as possible within a set time while avoiding being whacked by the hammer. The Human Mole with the most balls at the end is the winner.
Human Whack a Mole Hire Specifics
This game is for players 4ft 10in and taller - any shorter and they won't be able stick out of the 'mole hole' to reach the balls.
You will require a level area of 18x18ft and if indoors a height clearance of 9ft
For outdoor events we can provide an inflatable weather shelter but this increases the space required to 24x24ft.
Lichfield Entertainments hire out the Human Whack a Mole to events across the Midlands and much of the UK

If you have any queries, questions, or would like to book the Human Whack a Mole game for your event please contact us and we will be happy to provide a no obligation quote.