Inflatable Eliminator Bungee Run Challenge
Our Bungee Eliminator Inflatable is a brilliant two player bungee game popular for private parties, corporate fun, and team building events. We have two different models of this game so you can choose from a plain red and blue version or a rugby themed version. If it's for a rugby theme event why not also take a look at our a Rodeo Rugby Ball Ride.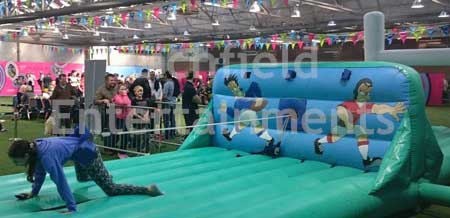 Each player starts from the centre of the inflatable and on the plain version has to place three coloured batons, one at a time, on the corresponding coloured pillar at the end of the inflatable bungee run. On the rugby themed version they have to place their three markers on the try line under the posts. This may sound simple but at the other end of the inflatable is your opponent, attached to the other end of the same bungee rope, who is trying to do exactly the same - and the bungee rope will only stretch so far before one gets bungee'd backwards! The first player to correctly place all three batons is the winner.
Tactics and not just strength play a big part in this fun game which can provide hysterical fun for players and spectators alike. So popular you wore our last one out so we have a brand new one and it's even bigger!
Approx Size 40L x 12W x 10ft High but needs an overall operating area of 50x20ft. The red and blue version needs a height clearance of 10ft and the rugby version needs 12ft height clearance. Suitable for ages 8 - adult.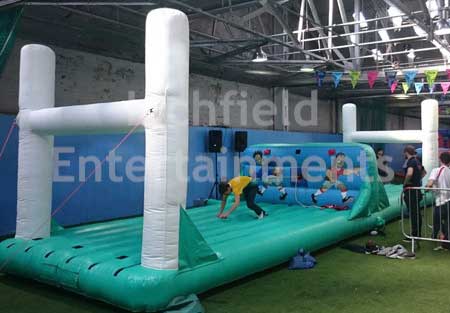 If you have any queries, questions, or would like to hire an inflatable eliminator bungee run, please contact us and we will do all we can to help.