Testimonials and Previous Clients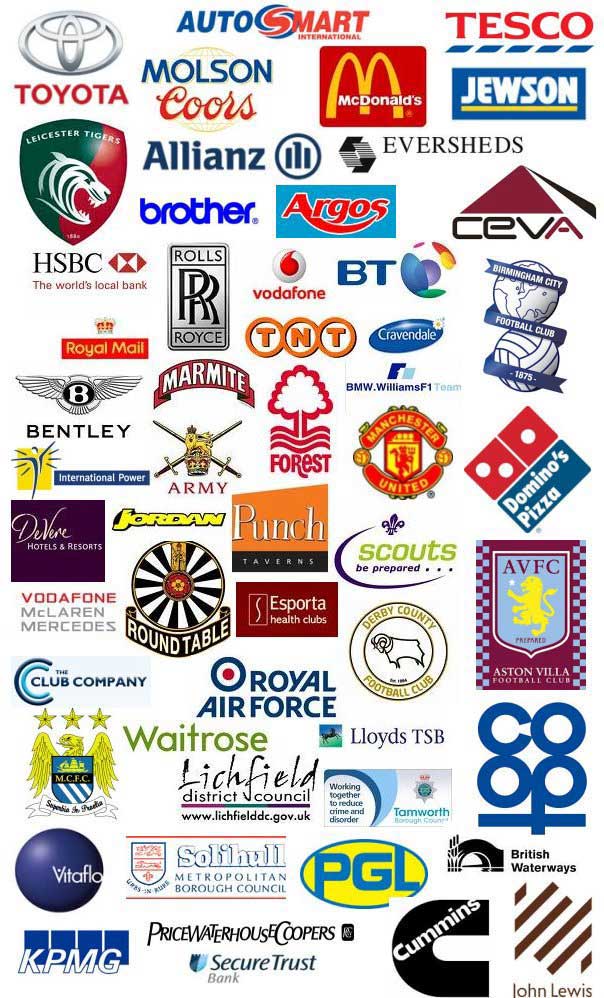 Over the years we've provided the entertainment for thousands of events and our clients have ranged from individuals holding a party in their garden for a dozen friends to blue chip companies holding a fun day for thousands. Some of our best known clients are shown above but whether you're holding a party for a dozen or a fun day for thousands rest assured that you'll receive the same high quality service aimed at making your event a total success.
Here are just a few bits of feedback from previous customers....
Just saying a massive thank you from Accrington Academy for being so cooperative and helpful about our event. Our event was a huge success and everybody from your company was very helpful on the day and communication has been good from day one. I will definitely recommend you to anyone looking to do any event with inflatables and I hope that I will be able to use you again in the future
Sam
We just wanted to drop a line to say thank you for providing the photo booth it was a marvelous addition to a great party. The booth man (sorry I have forgotten his name) was excellent and helped us so much. We will certainly use one of these or others from your activities at parties in the future and have already recommended you to several people
Stephen Adams
Many thanks for supplying the volleyball court. We had such an enjoyable time and Kieran was really helpful. Obviously the weather made such a difference. We will keep your details on file for future use as we intend to do another one soon. Thanks.
Debbie, Bank of America
Just a quick email to say thank you very much for coming to our prom yesterday! Everyone loved it and many said it was the highlight of their night so thank you indeed! I must also say that the attendant was great, very polite and friendly and ran the photo booth very smoothly great customer service! Thank you very much,
Natalie Haslam
A very big Thank you for last Saturday the 22nd June at my husband's 50th birthday celebrations. The photo booth was excellent and so much fun, your service was worth every penny.. I will highly reccomend you and will most definatley use you again. Kind regards
Jane
I just wanted to take the time to say Thank You for Friday evening at Yarnfield training centre. The Rodeo Bull was a huge success and Luke did a fab job, we all had a great time and I will definitely recommend yourselves to others in the future. Many Thanks Jessica Orton, Delice De France
Just to say a huge thank you to Henry and Alex who did a great job yesterday. It was a very professional service and the equipment was fantastic
Melanie - Princethorpe
Just a quick message to say thankyou for Friday. The guys were absolutely fantasticand made my job a lot easier!!! They were great with the kids and everybody had a brilliant day. Will definitely be booking again! Thanks
Sam Phoenix School
I just wanted to say a huge thank you to your company and the 2 lads you sent on Friday, they were helpful, efficient and professional. The games went well, the volley ball being the highlight of the evening. We will be in touch next year when we have to start organising again and will be recommending you to other companies and friends. Many thanks again
Laura Benjamin Events Coordinator - Namesco Limited
I just wanted to thank you and your company for the excellent standard of service, they were exceptionally thoughtful to staff and students, on a very hot day! I can honestly say that their general good natured attitude to the students and staff and professional approach to their roles was excellent. We look forward to using your company again next year
Lucy Meade, Senior Office Manager
"Just to say a belated but BIG THANK YOU to you and your team for your superb entertainment during our family fun day. Your personal support in helping me organise the events and costings was extremely helpful. Your team are 'second to none' completely professional, helpful, cheerful, mature, enthusastic and supportive. A true set of team players! Can you please pass on my words of appreciation to your 'A team'. "
Clare Wilson
" Just wanted to say thanks to yourself, Craig and Luke for helping us make our Christmas party so fantastic. The photo booth was brilliant fun, as were the games! All the best
Kate"
"I just wanted to feed back to you that Craig was absolutely brilliant on Saturday night! He was very friendly, flexible with when to have the rodeo bull going and was very patient with some of the older lot who wanted to have a go. Thanks so much, it really made the evening. Please say a big thank you to him. Best Wishes,
Sarah"
"If you are organising an event and need inflatables, rides, or childrens attractions, I can honestly say that Rugeley Power Station was extremely pleased with the equipment and services provided. Having used their services for a recent charity event, we found their staff to be most helpful in every respect with the result that our fund raising activities proved to be very successful"
Rosemary Bryan - International Power
It has taken me a week to recover from the Fayre, but I just wanted to say thanks to you and all your team for providing such amazing entertainment at the Colet Court Christmas Fayre. Hopefully see you again next year!
Jane
"On behalf of Singlepoint, and all the event attendees, can you please accept our sincere thanks......Your staff were friendly and polite, fantastic with the children and very efficient. We have heard nothing but praise for your team! The days activities that the team brought were well run, very well set up, and above all great fun! It was a pleasure to have you guys at our event, and to work with such a good team. We look forward to the next opportunity to request your services! Thanks once again"
Victoria Drosdzowski - Singlepoint Solutions (part of Vodaphone)
"Just wanted to drop you a note to say a big thank you to your guys who helped at the fair last Saturday. They were efficient and really helpful. The entertainments supplied were excellent and everybody loved them all.Would be happy to recommend you. "
Caroline Casey - Chair PTA
"I would like to say a HUGE THANK YOU from all of the colleagues at George for your part in making our Olympics Event such a great afternoon of food, fun, sport and laughter. We had the best weather day of the year to help us too. We appreciated your support and thank you."
Angela J - George Clothing