Roll and Bowl - Roll a Ball Kentucky Derby Game
Roll and Bowl is the updated, portable, modernised version of the Roll a Ball Kentucky Derby carnival game. A four player game, on the starters instructions the participants roll the balls up their individual lane targeting the eight drop through holes at the far end - too slow and the ball will roll back down, too hard and you overshoot the holes. Every time a ball falls through a target hole the players horse (or alternative character) moves forward along the track. Different target holes have different score values. The higher the value scored the quicker your horse advances along the track. First to the end is the winner.
If you don't fancy a horse character we can provide allsorts of alternatives: cars, motorcycles, camels, and even reindeers for those Christmas parties. If there's a specific theme that you would like just ask.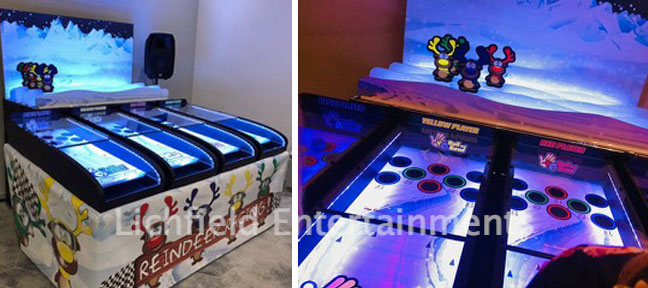 A perfect multi-player game for corporate events, parties and wedding receptions this game is a bit different to the usual entertainments.
Roll and Bowl Hire Details
You'll need a level area of 10x10ft overall with a 7ft ceiling height. This space includes room for participants to stand. It will require a 240v mains electric supply within 40metres.
The game is supplied with staff as standard.

If you have any queries, questions, or would like to hire the Roll and Bowl for your event please click here to enquire and we will do all we can to help.